This down-home melt-in-your-mouth recipe from 2016 Scovie Award winner Aunty Lilikoi has a spicy fruit twist that is sure to excite your taste buds…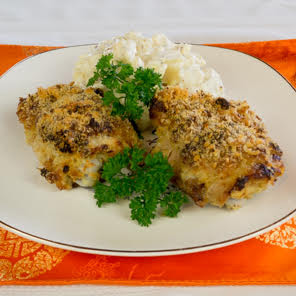 Aunty Lilikoi's Butter Parmesan Oven-Fried Chicken with Potato Salad
2015-12-31 15:36:16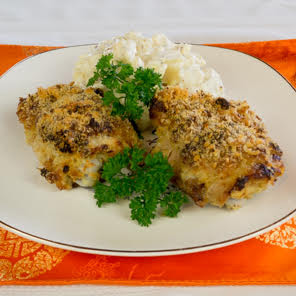 Chicken
6-8 Boneless chicken thighs
4 TBSP melted butter
1/3 cup Aunty Lilikoi Passion Fruit Wasabi Mustard
1 ½ cup Panko crumbs
½ cup grated Parmesan cheese
Salt & Pepper to taste
Potato Salad
5 Medium potatoes, chopped
1 tsp. sea salt
1 clove garlic
4 large eggs, boiled and chopped
1 ½ cups mayonnaise
1 TBSP Aunty Lilikoi Passion Fruit Wasabi Mustard
5 sweet pickles, chopped (or use sweet pickle relish)
¼ cup sweet onion, chopped
Chicken
Preheat oven to 400 degrees. Line a shallow baking pan or baking sheet with foil and spray heavily with non-stick spray.
Rinse chicken thighs and pat dry.
Mix together melted butter and Aunty Lilikoi Passion Fruit Wasabi Mustard in a medium bowl.
Combine panko, Parmesan cheese, salt and pepper on a dinner plate or platter.
Dip chicken thighs into butter/mustard mixture and gently toss to evenly coat. Press each chicken thigh into panko crumb mixture, evenly coating on both sides.
Place chicken on the prepared pan and spray the top of each chicken thigh with additional non-stick spray.
Bake for about 25-30 minutes until coating is crispy and brown and chicken is thoroughly cooked.
Potato Salad
Place potatoes, garlic and sea salt into a dutch oven. Add water to cover the potatoes. Bring to a boil and cook for about 10 minutes, until potatoes are done--do not overcook. Cool.
Combine all ingredients and mix well, taking care not to smash the potatoes. Chill well before serving.
Scovie Awards https://www.scovieawards.com/