You don't have to apologize for double dipping into this fiery bbq sauce from 2015 Scovie Awards winner Consuming Fires…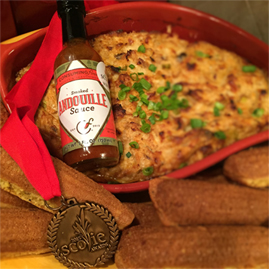 Consuming Fires Hot Smoked Andouille BBQ Dip
2015-07-24 17:29:20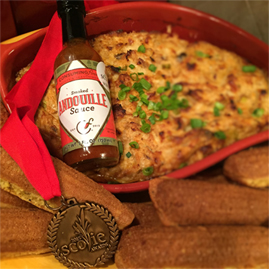 Ingredients
8 oz. Whipped Cream Cheese
1 cup Sharp Cheddar Cheese, shredded
½ cup Ranch Dressing
3 – 4 Tbsps. Consuming Fires Smoked Andouille Sauce
¼ cup Sliced Green Onions
2 cups BBQ Pork Butt, pulled (We Love Mike and Jeff's of Greenville)
Instructions
Mix the first 5 ingredients together well with a rubber spatula or in a mixer with a paddle.
Gently mix in the pork until well incorporated.
Place into a 1 quart casserole dish suitable for serving.
Bake at 350 degrees for 20 minutes, until golden brown and bubbling.
Serve hot as a dip, with tortilla chips, crackers, or our favorite; freshly baked corn bread sticks.
Scovie Awards https://www.scovieawards.com/