What goes well with burgers? Beer braised onions and sriracha-aioli that's what. This mouthwatering jerk burger recipe from 2015 Scovie Award winner Louisville Sauce Company makes our stomachs growl just reading it. Tip: Save some beer from the braised onion recipe for drinking…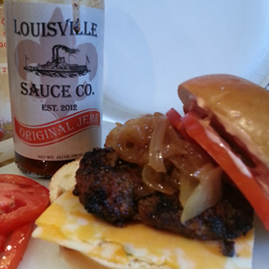 Louisville Sauce Company Big B's Original Jerk Burgers
2015-08-07 13:58:09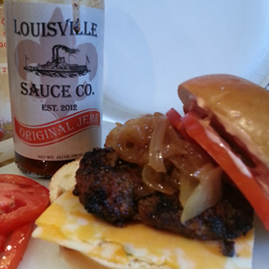 Burgers
1 Pound ground chuck beef
¼ Cup Louisville Sauce Company Original Jerk Sauce
3 Hamburger Buns (we used Brioche)
1 Tomato Sliced
1 Recipe Beer Braised Onions (Recipe Follows)
1 Recipe Sriracha-Aioli (recipe Follows)
Beer Braised Onions
These can be made a day ahead and reheated before serving.
1 Medium onion, peeled, cut in half and thinly sliced.
2 TBSP butter
1 Cup beer at room temperature. (We used an American IPA)
Salt and Pepper
Burgers
Combine Ground Beef and Jerk Sauce. Mix well, then refrigerate for 30 minute to 4 hours.
Divide Beef into 3 hamburger patties and grill until internal temperature reaches 165 degrees or to your liking.
To assemble: Spread Sriracha-aioli on one side of bun, add a hamburger patty, beer braised onions, a slice of cheese and a slice of tomato. Close bun and serve!
Beer Braised Onions
Add 2 TBSP of butter to a small pot over medium. Melt butter and add onions, a pinch of salt and pepper. Cook until the onions start to soften. About 5 minutes.
Add the beer and cook until the beer has evaporated and the onions are softened.
Scovie Awards https://www.scovieawards.com/