Go ahead, give in to this tempting sweet-heat cheesecake recipe from 2015 winner Overkill Hot Sauce. We won't tell on you…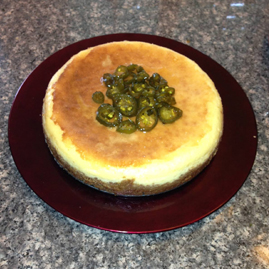 Overkill Hot Sauce Jalapeno Cheesecake
2015-06-26 14:50:16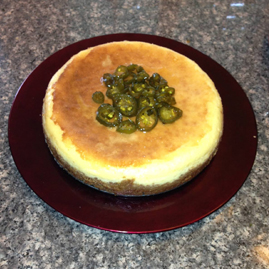 Enjoy the cream flavor of cheesecake with just a nip of heat from candied Jalapeno peppers.
Ingredients
Crust:
4 tablespoons melted butter
1/2 cup graham cracker crumbs
Overkill Hot Sauce Candied Jalapenos
Cheesecake Batter:
2 pounds cream cheese, softened
1 1/4 cups superfine sugar
2 large eggs
2 large egg yolks
2 teaspoons pure vanilla extract
1/2 cup heavy cream
1/4 cup sour cream
1 small lemon, zested
Instructions
Preheat the oven to 325° F.
For the crust: Butter the bottom of a 9-inch spring form pan with some of the melted butter. In a small bowl, toss remaining butter with the graham cracker crumbs. Sprinkle the bottom of the pan with the crumbs. Wrap the outside and bottom of the pan in a large piece of foil. (This is to prevent water from seeping through during the baking.)
For the Candied Jalapenos: Reserve the jalapenos and syrup separately. Cover the crust with the drained jalapenos. Set aside.
For the Cheesecake Batter: In the bowl of an electric mixer fitted with the paddle attachment, beat the cheese with the sugar until light and smooth. Add the eggs 1 at a time, scraping down the bowl between additions. Add remaining ingredients, including the reserved syrup, and mix until combined. Pour batter over jalapenos.
Place pan inside a roasting pan. Add hot water to come halfway up the sides of the spring form pan. Bake until cheesecake is just set, but still a little wobbly in the center, about 1 hour. Open oven door and allow to sit in oven for 15 minutes to start the cooling procession. Cool for at least 1 hr in a cool place and refrigerate until completely set, at least several hours, up to overnight. If you wish to put a topping on it, use sour cream sweetened with sugar and a little of the candy syrup saved from above.
Scovie Awards https://www.scovieawards.com/