This kebab recipe from 2015 Scovie Award winner Papa Turts is perfect for summertime grilling…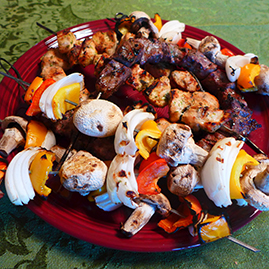 Scovie Spotlight - Papa Turts Southeast Asian Inspired Turts Kababs
2015-07-31 18:27:32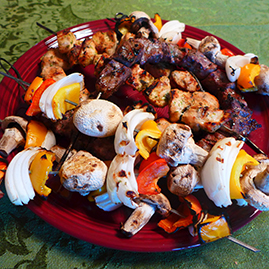 Ingredients
1 - 13.5 oz can coconut milk
1 cup cilantro leaves
5 garlic cloves
2-3 tbsp Papa Turts So Hot It Hurts hot sauce
2 tbsp fresh squeezed lime juice
2 tbsp sugar
2 tbsp soy sauce (or coconut aminos)
2 scallions chopped
2 chiles (fresh or dried - we used fresh Serrano)
1 inch piece of ginger peeled
1 tbsp vegetable oil
1 tbsp fresh squeezed lemon juice
2 tsp salt.
Instructions
Combine ingredients in a food processor. Pulse until well blended.
Reserve 3/4 cup of the marinade to use as a dipping sauce. Refrigerate until ready to use.
Cut 3-6 lbs of meat of your choice into 2 inch pieces (we used chicken breast and strip steak).
Marinate the meat for 3 to 6 hours.
Cut vegetables of your choice to 2 inch pieces (we used onion, yellow and red pepper, mushrooms). Refrigerate until ready to use.
Thread meat onto skewers (we prefer stainless steel skewers) and thread veggies onto separate skewers. Discard any of the leftover marinade that the meat has been in.
Heat the reserved 3/4 cup marinade in a small saucepan over medium high heat. Bring to a boil and then and simmer on low for 20 minutes.
Grill veggies and meat on high heat until cooked to safe temps (145 degrees steak and 165 degrees chicken internal temps... and don't overcook your steak!)
You can serve with rice or pita bread, and soy sauce, coconut aminos, warm marinade dipping sauce, lime wedges, Papa Turts hot sauce, etc....
Scovie Awards https://www.scovieawards.com/