The soft, cold and bacony taste of grilled chilled avocado, combined with firm, hot poached shrimp in puttanesca sauce creates a great taste and a sensational feel in this recipe from
2016 Scovie Award winner Gorji Gourmet Foods…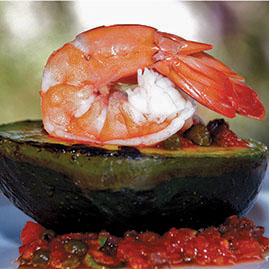 Puttanesca, Grilled Chilled Avocado & Shrimp
2015-10-28 14:03:07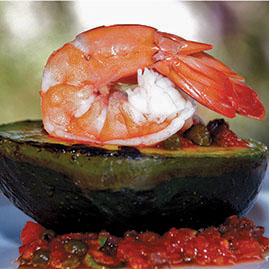 Serves 4
Ingredients
2 tablespoons olive oil
kosher salt
coarse ground black pepper
2 large avocados, halved with pit removed, leaving skin on
4 large shrimp, peeled and deveined
1/2 cup puttanesca sauce
1/4 cup dry white wine
Avocado: Cook and chill time: about 2 hours
Shrimp and sauce: Cook Time: about 3 to 4 minutes
Instructions
Brush the avocados on both sides with olive oil and season the meat side with salt and pepper. Grill the avocados for about 2 minutes skin side down. After a couple of minutes, you will see a separation of the avocado meat from the shell. At this point, turn the whole avocado and grill for about 30 more seconds to achieve grill marks. Remove from grill and slice a thin layer from the bottom so it can stand up when served.
Chill avocado for a couple of hours.
When ready to serve, add puttanesca sauce and white wine to sauté pan and heat on medium-high until it starts to bubble in the center. Turn heat to low and add the shrimp. Poach about 1 minute on each side until firm.
Put some sauce on the plate, the rest in the cavity of the avocados and top with shrimp.
Scovie Awards https://www.scovieawards.com/