Use this handy press release template to publicize and share your Scovie Award win with media outlets and customers. Download and print PDF.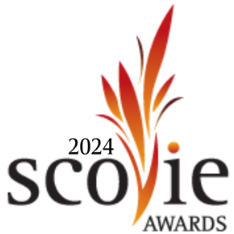 [INSERT COMPANY] WINS [# OF AWARDS OR DESCRIPTION IF SINGLE AWARD] AT WORLD'S MOST COMPETITIVE FIERY FOODS CONTEST
2024 Scovie Awards Honors Best Spicy & Savory Food Products
For Immediate Release – [Date], 202[] Contact: [Name], [Company] | [Phone & Email] [Insert City, State] –
The 2024 Scovie Awards Competition judging panel of top culinary experts honored [insert business] with a [placed award] in the [enter category] [sub-category] for their [enter product]. Their winning product was applauded because of [insert info on winnings, quotes from judges]. [Insert company] is located at [insert address] and products can be purchased online at [website]. They offer: [insert product line].
Mark Masker, producer of the Scovie Awards, said the 2024 Scovie Awards Competition had 1011 entries. A total of 155 companies entered products, of which 114 companies won at least one award—a winning percentage of 73.5% percent. The entries came from 33 states in the U.S. and 8 countries, including England, Hungary, Germany, Canada, and Australia.
The Scovie Awards Competition is produced by Mark Masker of Sunbelt Shows, Inc., producer of the National Fiery Foods & Barbecue Show, coming up March 1-3, 2024.
The Early Bird Special for entering the 2025 Scovie Awards begins June 1, 2024. For more information on the Scovie Awards, please visit https://www.scovieawards.com/