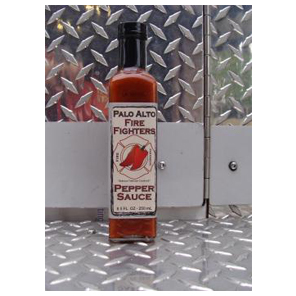 Palo Alto Fire Fighters Pepper Sauce (2015, 1st Place)
2015, 1st Place – Hot Sauce > Specialty Chile
Description
Year: 2015
Place: 1st Place
Product Name: Palo Alto Fire Fighters Pepper Sauce
Category: Hot Sauce
Subcategory: Specialty Chile
2015 1st Place Scovie Awards-Speciality Chile-Original & 2015 3rd Place Scovie Awards-Speciality Chile-XX Habanero. Using the highest quality ingredients Firefighter Lee Taylor has crafted a complex, full flavored sauce that stands on its own or plays well with other foods. 100% of profits go to charity. Sodium Free.
Company Name: Palo Alto Firefighters Pepper Sauce
Address:
2629 Whitetail Ct. Antioch, CA 94531
Contact Person: Lee Taylor
Phone: 925-628-5166
Email: pafpeppersauce@yahoo.com
Website: paloaltofirefighters.com
This refreshing summer salad recipe from 2015 Scovie Awards winner Palo Alto Firefighters is the perfect dish to bring to a hot summer party…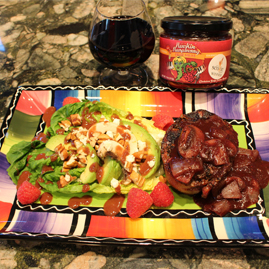 Bacon Wrapped Filet Mignon with Rockin Raspberry & Port Wine Sauce
2015-06-25 14:54:17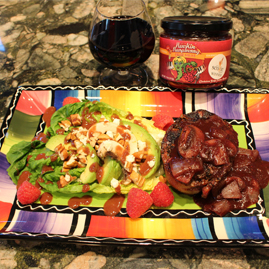 Serves 6
Ingredients
4 – 6 filet mignon (or your favorite cut of steak)
1 – 2 slices of bacon to wrap each filet
1 cup Chehalem Ridge Brands Rockin' Raspberry Fruit Salsa
1 cup port wine 2 tbsp olive oil
2 tbsp butter
½ medium onion (sliced about ¼ inch thick & quartered)
5 – 6 mushrooms – sliced
2 tsp minced garlic
¼ cup agave syrup
½ tsp coarse ground black pepper
Coarse ground black pepper for the steaks
Instructions
Place the Rockin' Raspberry fruit salsa in a food processor or blender and process until smooth. This can take several minutes. Wrap each filet with bacon and secure with a toothpick. Lightly cover the steaks with coarse black pepper and place on the grill. While the steaks are cooking, melt the butter in a sauce pan and add the olive oil. Place the onion in the pan and saute until the onion begins to show translucence. Add the mushrooms and continue to saute until the mushrooms begin to brown and release their juices. Add the garlic and saute for about 30 seconds. Add the port wine and continue to cook until reduced to about half the volume. Add the Rockin' Raspberry fruit salsa and the agave syrup and cook to blend all ingredients well. Reduce heat to low. Remove the steaks when done to your preference and let rest for a few minutes. Place steaks on plate and add the sauce to the steaks prior to serving. Makes about six servings.
Scovie Awards https://www.scovieawards.com/